Street Yoga is a local Portland non-profit organization that was started in 2002 by a group of yoga teachers going to teach yoga at a day shelter.  Street yoga serves to teach students, young adults, families, and caregivers who may have had endured abuse, addiction, trauma, homelessness, being at risk, or any personal obstacles an opportunity to learn effective social skills amongst peers while learning the founded fundamentals of breathing and positive reinforcements through the teachings and principals of yoga.  Trained volunteers teach yoga to 22 local organizations who bring their clients the gift of yoga.
Street Yoga Mission:
"Street Yoga gives youth and their caregivers the tools to overcome early life trauma, through the sharing of life-building mindfulness and wellness practices grounded in the ancient healing principles of yoga. We serve by helping them create a sense of true home in their own bodies, minds and communities"
www.streetyoga.org
Please go to
http://streetyoga.org/portland-programs
to learn about all the programs in Portland that Street Yoga provides.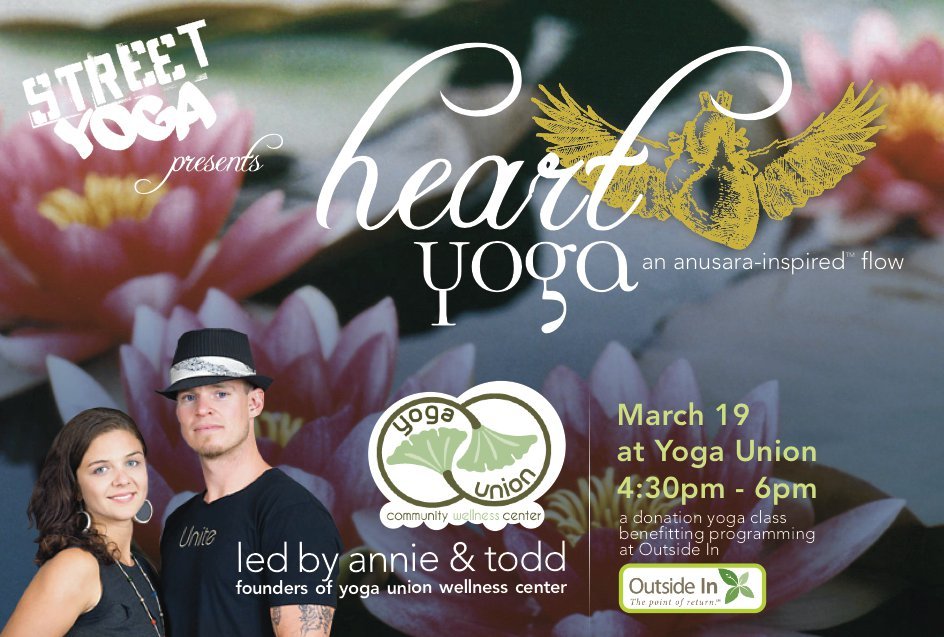 Join us on  March 19th at 4:30pm as we come together at Yoga Union for "Heart Yoga with Annie and Todd", an Anusara Inspired, donation only class. All procedes will go to influence the impact Street Yoga has with Portland's own OutsideIn.
Suggested Donation $8 – $18. An RSVP is greatly appreciated.